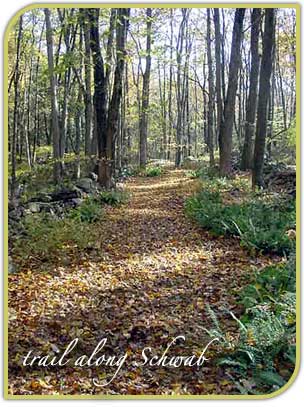 Welcome
The Land Trust of Danbury is a private, nonprofit corporation formed for the sole purpose of protecting open space – woodlands, fields, ponds, vernal pools and other wetlands – for:
Scenic views
Beautiful places for walking or running, nature education and inspiration
Habitats on which wildlife depend
The land trust advises individuals, families and business landowners of alternative land preservation methods, including possible tax benefits.
September 28, 2013 – A Harvest Gathering Gala Event at Tarrywile

A fund-raising experience to benefit us all: protecting, preserving, and sharing the open spaces that ensure our quality of life.

News & Upcoming Events
Area Coalition of Land Trusts Working Together


Connecticut has one of the highest concentration of land trusts in the United States. It is a dual-edged distinction. This high concentration is a testament to the dedication of many men and woman who helped found the land trust movement and dedicated considerable time to protecting our vital resources.

Clean-Up Day on Long Ridge Road


The Land Trust of Danbury is seeking volunteers for the annual cleanup of Long Ridge Road and the trails around Mountain Pond Reservoir. The Land Trust of Danbury has "adopted" Long Ridge Road as part of Clean City Danbury Day.

Land Trust of Danbury Annual Meeting


The Annual Meeting will be held Sunday, April 21st, 2013 at 3:00 pm in the Science Building on the Midtown Danbury campus of WESTCONN. Members will have an opportunity to hear from area conservation experts on the opportunities and challenges facing land trusts, including Amy Blaymore Paterson, Executive Director of The Connecticut Land Conservation Council (CLCC) and Kevin Case, Regional Director for the Land Trust Alliance.